Enjoy lower energy bills and more comfort with replacement windows

An average home loses up to 30% of its heating and cooling energy through air leaks around windows and doors. If your windows are leaky, your energy costs are much higher than they can be. If your windows are 10 years old or older, replacing them may put an end to out of control energy bills
Upgrading your older windows to energy-efficient windows with low-E coatings can reduce your energy bills by up to 15% per year. A recent study by Energy Star revealed that switching out your single-pane or even your newer double-paned, clear-glass windows to an energy-efficient window offered by Area-Pro, can save up to $465 per year.
Proud BBB Accredited Business
We're extremely proud of our A+ rating. We work hard to ensure that every customer is satisfied with our work.
What does this mean?
BBB ratings represent the BBB's opinion of how the business is likely to interact with its customers. The BBB rating is based on information BBB is able to obtain about the business, including complaints received from the public. BBB seeks and uses information directly from businesses and from public data sources.

Over 30 Years of Service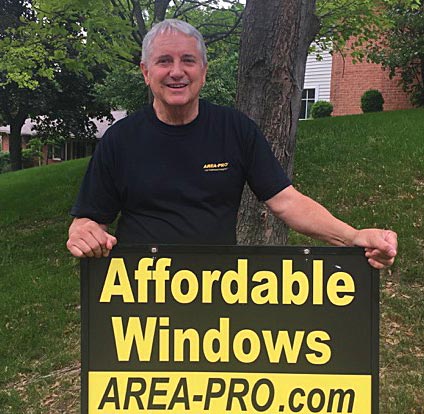 George Schmall started Area-Pro over 30 years with the goal of building a name for himself in the Dayton area. Since then, his name has become synonymous with quality and integrity. George relies on his customers to spread the word about the amazing work he has done for them.
Text/Call George today!
(937) 296-7400
Email:
SAVE $300!
For a limited time, when you fill out a request for a FREE estimate from our website, we will give you a $300 discount on any project over $2,500.
Offer may end at any time so don't delay. Request your FREE "no hassle" estimate today!
Old Fashioned Integrity®
Area-Pro has been serving Dayton, Ohio homeowners with high quality windows and remodeling at affordable prices since 1986. Old Fashioned Integrity® — no pricing games and long, drawn out presentations. Just quality service and reasonable pricing.
Area Pro Windows of Dayton offers professional installation of energy efficient window and door replacements, with a Lifetime Warranty to beautify and modernize your family home, as well as saving you money on your family energy bill.
Area Pro only hires highly skilled, factory trained, professional installers who are dedicated to Old Fashioned Integrity® and provide a comfortable installation experience while working on your families home improvement project, with unparalleled services and demanding the highest level of satisfaction.